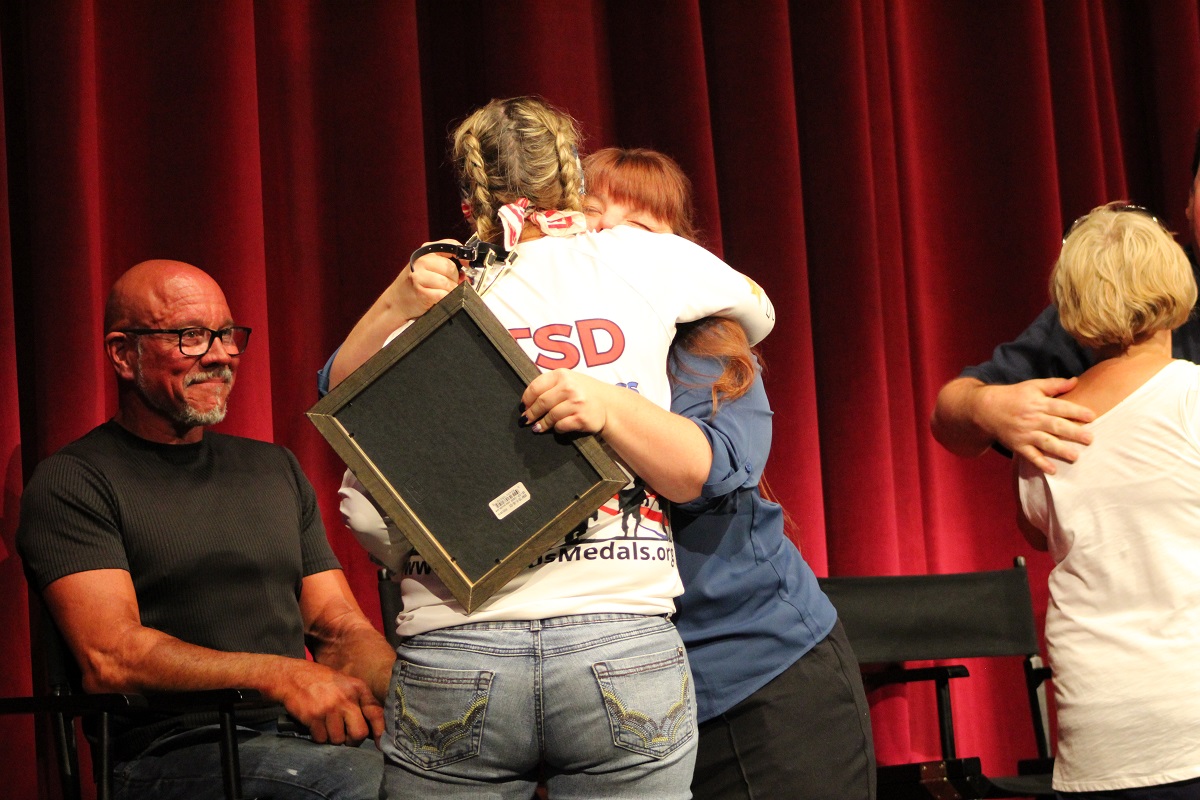 BY MIKE FUHRMAN
Mission Accomplished!
Eight days after departing Statesville, a small caravan of motorcycle riders arrived in Los Angeles, California, on Monday morning and presented the long-lost military service medals of a World War veteran to his family members.
During an emotional ceremony at Hollywood American Legion Post 43, Precious Medals co-founders Roger and Kim Siegrist gave the medals awarded to Coy William Goins to Kimberly and Eric Schmidt, his great-great niece and great-great nephew.
"I don't think there are enough words to express what this means to me and my family. For us, it's bringing back the memory of a man who — because of trauma — his voice was silenced," Kimberly Schmidt said after the ceremony. "It's helping to bring attention to other veterans with PTSD and bringing their voices back. It's such an act of kindness for myself and my family, and it's a way to bring all of this to attention and hopefully help others and cause a ripple effect."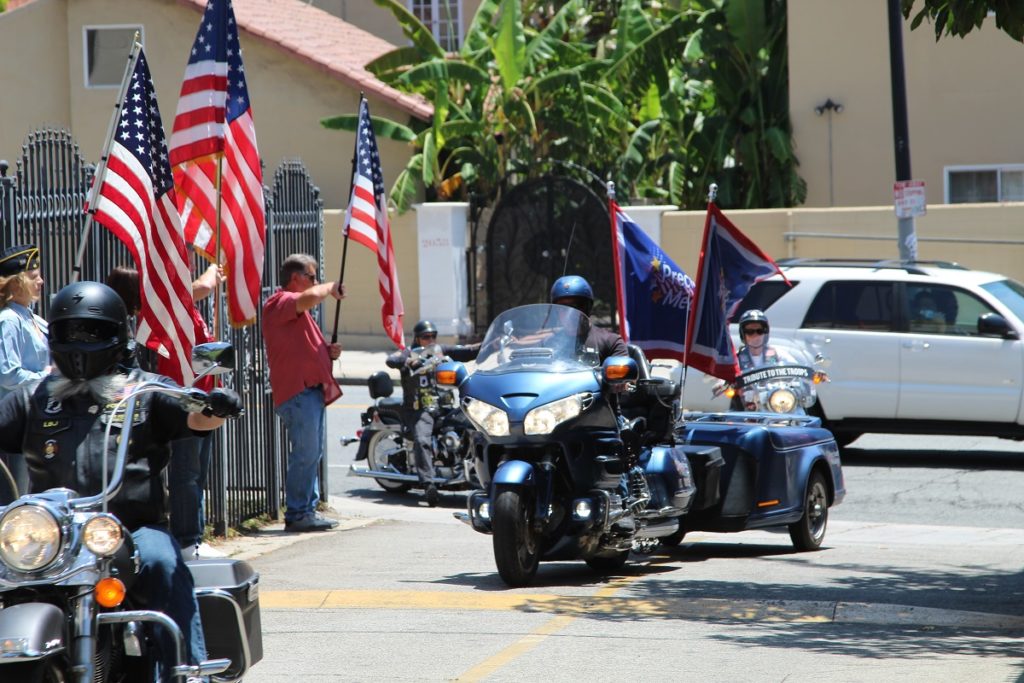 "It means the ability to honor my family. My grandmother was somebody I loved dearly. To be able to honor somebody my grandmother loved dearly, her brother, means the world to me," added Nadine Schmidt, Kimberly's mother and Sgt. Goins' great niece. "It also means the ability to tell this country that we need to do more to take care of our military men and women."
Kim Siegrist bought a display containing the medals and Goins' service medals two years ago when she found them for sale in a thrift store, setting off a journey to learn more about Sgt. Goins, find his family and return the medals. Her husband handmade a new display case and personally carried the medals across country in a trailer attached to his motorcycle.
The caravan, which included two veterans, left Statesville on Memorial Day and arrived in Los Angeles on the 78th anniversary of D-Day, when American troops invaded Normandy, France. Sgt. Goins, a native of West Virginia, participated in D-Day, the Battle of the Bulge and other operations during eight tours of duty in World War II. He was awarded two Purple Hearts, two Silver Stars and other medals in recognition of his bravery and gallantry in combat.
During the cross-country journey, motorcycle riders and a support team traveling by RV endured several challenges, including a tire blowout, a flat tire, electrical issues and a fender bender involving one of the motorcycle riders in the last 30 miles. A downpour in Oklahoma and 100-plus degree temperatures in the Mojave Desert also made the 2,500-plus mile trip more daunting.
The group was escorted on the final leg of the journey by more than a dozen motorcycles representing several military organizations. Those veterans and others them met along the way were moved — some to tears — by the effort to honor a veteran who struggled with Post Traumatic Stress Disorder after returning to civilian life.
During the ceremony, Roger Siegrist recounted the process that led to the repatriation ceremony. During the weeks leading up to the journey, Precious Medals enjoyed the support of Purple Heart Homes, veterans at Richard's Coffee House in Mooresville. Flying J Travel Center also supported the effort with a financial contribution.
"The mission is done," Roger Siegrist said after the ceremony. "We've delivered the medals, and now we know much more good will come from this. The legacy of Coy William Goins will lead us to future legacies for our veterans, our heroes and PTSD."
Photo Gallery
Support this Mission
You can help fund this journey and support the work of Precious Medals and Purple Heart Homes, by making a contribution HERE.

Related Stories
♦ MAY 20: A Journey to Remember: Precious Medals, Purple Heart Homes collaborating on mission to deliver service medals to relatives of World War II veteran
♦ MAY 30: Photo Gallery: Purple Heart Homes hosts send-off for Precious Medals mission
♦ MAY 31: Precious Medals Journey Day 1: From Statesville to Cookeville, Tennessee
♦ JUNE 2: Precious Medals Journey Day 2 & 3: From Cookeville, Tennessee, to Yukon, Oklahoma
♦ JUNE 5: Precious Medals Journey Day 4 & 5: From Yukon, Oklahoma, to Winslow, Arizona
♦ JUNE 6: Precious Medals Journey Day 6 & 7: From Winslow, Arizona, to Barstow, California