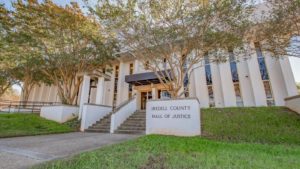 BY MIKE FUHRMAN
A judge on Wednesday dismissed a conspiracy to commit murder charge against a Winston-Salem man on trial for the shooting death of Shana Nichole Harmon.
Visiting Judge Lori Hamilton granted defense attorney Ken Darty's motion to drop that charge after the prosecution rested its case against Jhammar Vernon Bowen in Iredell County Superior Court.
When considered "in the light most favorable to the state," the prosecution's evidence did not prove that Bowen and his alleged accomplice, Qawiesha Toliver, had an agreement and worked in concert to kill Harmon, Judge Hamilton ruled.
When the jury begins deliberations — perhaps as soon as Thursday morning, it will be tasked with deciding if the prosecution has proven beyond a reasonable doubt that Bowen is guilty of first-degree murder.
Through the testimony of 19 witnesses spanning two weeks and the introduction of 125 exhibits, Assistant District Attorney Mikko Red Arrow has sought to show that Bowen, 30, killed Harmon because he suspected she stole cocaine that he had provided Toliver for sale.
Harmon, 25, was shot and killed on January 16, 2020, at an abandoned house on 8th Street in Statesville.
Toliver, who faces the same charges as Bowen, testified that Bowen shot Harmon three times after driving her to that house early that morning. She told the jury she believed they were going to the house so Bowen could have sex with Harmon for money.
The prosecution on Wednesday introduced as evidence cell phone records that appear to support where Toliver said she and Bowen were on the morning of the shooting. The records showed that the phones registered to Bowen and Toliver were, at different times, in the Mooresville area, near the 8th Street home where Harmon was killed, a Statesville McDonald's and in the vicinity of Toliver's apartment.
Before the prosecution rested its case Wednesday morning, Darty cross-examined Statesville Police Department Investigator Christy Cleary.
Through his questioning, the defense attorney implied that the SPD had not conducted a "thorough investigation" of Harmon's death.
Police did not interview two potential witnesses/suspects identified by Toliver in a jailhouse interview, did not have the victim's clothing examined by forensic experts, and did not adequately search the crime scene for two projectiles that passed through Harmon's body, according to Darty's questions. Any or all of that evidence, he suggested, could have shown that Toliver's version of what happened was not supported by forensic evidence.
In his closing argument, Darty will continue to his effort to convince the jury that Toliver — not his client — killed Harmon.
Red Arrow, meanwhile, will argue that Bowen committed a premeditated and deliberate killing with malice.
"The only evidence in this case is that it was essentially an execution," the prosecutor said during a legal argument Wednesday.
Darty did not present any evidence in the trial, and Bowen did not testify on his own behalf, as is his right.
The defense attorney told Judge Hamilton that he had planned to call a witness on Wednesday whose could have implicated Toliver in the case.
But that witness, Darty said outside of the presence of the jury, refused to testify because Toliver was free on bond and he feared for his safety and the safety of his family.
The trial will resume at 9 a.m. Thursday with jury instructions and closing arguments.
Related Stories
DAY 1: Murder trial begins in January 2020 shooting death of Statesville woman
DAY 2: Forensic pathologist testifies about 'devastating' gunshot wounds that killed Shana Harmon
DAY 3: Witness: Defendant picked Shana Harmon up at apartment on day she was killed
DAY 4: Alleged accomplice: Defendant shot Shana Harmon after driving her to drug house
DAY 5: Judge suspends testimony of key witness in murder trial, citing cognitive impairment
DAY 6: Key prosecution witness in murder trial returns to stand; jury to hear testimony about cocaine, guns found in defendant's home
SIGN UP FOR OUR FREE E-MAIL EDITION HERE.