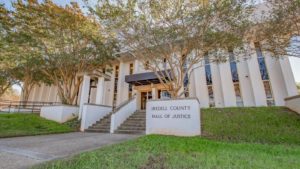 BY MIKE FUHRMAN
A jury of four men and eight women found Jhammar Vernon Bowen not guilty of first-degree murder in the death of Shana Nichole Harmon on Thursday after deliberating for less than two hours in Iredell County Superior Court.
The jury returned the verdict just after 1 p.m., after deliberating for one hour and 41 minutes, finding the prosecution had not proven its case beyond a reasonable doubt.
Bowen, who clasped his hands in front of his chest as the jury entered the courtroom, bowed his head and hugged his attorney after the verdict was announced.
Defense attorney Ken Darty, who was appointed to represent Bowen by the N.C. Capital Defender Office, said he pushed for a speedy trial in the case because he believed the prosecution's evidence was weak and largely based on the testimony of a flawed eyewitness whose credibility became the central issue of the trial.
"I truly believe that my client was innocent," Darty said. "I believe he obviously was there (when Harmon was killed), but I think the jury got it right."
Statesville Police Department investigators had an obligation to thoroughly investigate the case, Darty said, but they refused to consider that Qawiesha Toliver — Bowen's girlfriend and drug-dealing associate and the prosecution's key witness — was the shooter.
"They knew her statements were contrary to the physical evidence, and they went along with it anyway," Darty said. "It was mind-boggling to me that they drew that conclusion."
Bowen, who pleaded guilty to attempted cocaine trafficking in Forsyth County last month and has served his jail sentence in that case, will likely be released from custody Thursday on bond for his sole remaining charge in Iredell County. That charge, assault on a government official, was filed against Bowen as a result of a fight with another inmate in the Iredell County Detention Center while he was awaiting trial. A jailer was injured while breaking the fight up, which led to the felony charge against Bowen, according to Darty.
Members of Harmon's family, who endured two weeks of testimony, much of which detailed her life on the streets as a drug addict and prostitute, cried as they learned that Bowen would not spend life in prison for her killing.
Bowen, 30, was arrested and charged with murdering Harmon, 25, two weeks after her death on January 16, 2020. Visiting Judge Lori Hamilton dismissed a conspiracy to commit murder charge on Wednesday, ruling the prosecution had not submitted evidence during the trial to substantiate that charge.
During two weeks of testimony, Assistant District Attorney Mikko Red Arrow attempted to build a case proving Bowen killed Harmon because he suspected she stole cocaine from Toliver's apartment on East Broad Street in Statesville. The prosecutor called 19 witnesses to the stand and introduced 125 exhibits, including photos of the crime scene as well as evidence detailing the nearly 2.5 kilos of cocaine, firearms, ammunition and $6,000 in cash seized from Bowen's Winston-Salem home.
In his closing argument, the prosecutor conceded that his case relied heavily on the testimony of drug addicts and prostitutes.
"There's a saying in jurisprudence," Red Arrow told the jury. "If a crime occurs in hell, you're not going to have an angel as a witness."
The evidence, he said, showed that Bowen was told that Harmon stole cocaine he had provided Toliver, and that Bowen picked up Harmon and Toliver from Toliver's apartment on the morning of January 16, 2020.
After driving to Mooresville, Bowen returned to Statesville and drove to the "Honeycomb Hideout," an abandoned home off 8th Street in Statesville frequented by drug users and prostitutes, the prosecutor said. After Harmon's body found on the back steps by a friend later that day, Statesville police began an investigation and recovered three .40-caliber shell casings from the scene, the prosecutor said.
Red Arrow reminded the jury that the .40-caliber firearm used to shoot Harmon was never recovered.
During the search of Bowen's home off Farmoor Circle in Winston-Salem two weeks after Harmon's death, police seized several 9 mm handguns and military-style rifles, in addition to evidence that led to Bowen's drug charges in Forsyth County. Police also recovered ammunition for all of those weapons and a box of .40-caliber ammunition from the closet in Bowen's bedroom. That ammunition was the same brand — and manufactured with the same brass casing and nickel primer — as the spent casings found at the crime scene, Red Arrow reminded the jury.
No .40-caliber firearms were recovered in the case.
"Why would you have .40-caliber ammunition and all those firearms?" the prosecutor asked. "Because it was gone."
Toliver testified that Bowen told her he was going to sell the firearm he used to kill Harmon, he added.
What the prosecutor did not do in his closing argument was recount step by step what his key witness, Qawiesha Toliver, said happened inside the "Honeycomb Hideout."
But Red Arrow predicted — accurately — that the defense attorney would attempt to blame Toliver for the crime — and he told the jury not to be swayed by that argument.
"There is no evidence — zero — that she shot anyone," the prosecutor said.
Red Arrow asked the jury not to convict Bowen because he's a drug dealer, or because he associates with drug addicts and prostitutes, or because he is a bad husband.
"Find him guilty because the evidence shows the man who murdered Shana Harmon is right there," the prosecutor said, indicating Bowen.
As anticipated, defense attorney Ken Darty attempted to convince the jury through his closing argument that the state's key witness, Toliver, could not be believed. Her testimony was not supported by the state's forensic evidence, which Darty argued actually implicated Toliver in the shooting.
"The only eyewitness in this case is mean, vicious, violent and a pathological, habitual liar," the defense attorney said, referring to testimony that Toliver "beat bitches up" and had previously assaulted Harmon and at least two other prosecution witnesses.
Toliver, he reminded the jury, has been convicted of litany of crimes, including malicious wounding and assault.
"The only way you can find him guilty is to believe a self-confessed liar," Darty said.
There was no evidence other Toliver's testimony, Darty argued, that Bowen had killed anyone and no evidence he planned to hurt Harmon on January 16, 2020.
Toliver testified that they went to the abandoned home on 8th Street on the morning of the shooting so Bowen could have sex with Harmon in exchange for money.
By the time they arrived, Toliver was "low-key mad" about the prospect of watching Bowen, her boyfriend, have sex with another woman, Darty said, recalling Toliver's testimony for the jury.
As Bowen stood behind Harmon preparing to have sex with her, Darty said the evidence showed, Toliver shot Harmon first in the front of her right arm, then in the back after she tried to run, and, finally, in the back of the head after she made it to the back steps, where her body was found.
That theory of what happened, he said, was supported by the physical evidence and the testimony of the state's forensic pathologist. Toliver's version of what happened — that Bowen fired the third shot at Harmon while standing in front of her — was inconsistent with that evidence, he added.
Toliver lied to investigators because she wanted to be released from jail, which happened after she met with an investigator, Darty said. Toliver is charged with murder and conspiracy to commit murder.
The defense attorney also argued that the Statesville police investigation was flawed, pointing to the fact that Harmon's clothing was not sent to the crime lab for analysis and that investigators did not find the other projectiles, which could have shown the location of Harmon and the shooter.
Furthermore, Darty told the jury, it was illogical to conclude that Bowen would kill Harmon over 14 or 15 grams of cocaine when there was no evidence that he had ever harmed anyone over missing drugs or money in the past.
Toliver, he said, was known to possess a firearm. And she had a motive, the defense attorney argued, to kill Harmon.
"That saying, 'Hell hath no fury like a scorned woman,' " Darty told the jury. "It's true."
Related Stories
DAY 1: Murder trial begins in January 2020 shooting death of Statesville woman
DAY 2: Forensic pathologist testifies about 'devastating' gunshot wounds that killed Shana Harmon
DAY 3: Witness: Defendant picked Shana Harmon up at apartment on day she was killed
DAY 4: Alleged accomplice: Defendant shot Shana Harmon after driving her to drug house
DAY 5: Judge suspends testimony of key witness in murder trial, citing cognitive impairment
DAY 6: Key prosecution witness in murder trial returns to stand; jury to hear testimony about cocaine, guns found in defendant's home
SIGN UP FOR OUR FREE E-MAIL EDITION HERE.